Private Surf Lessons Hawaii
Learn to surf on Oahu with legendary big wave surfer and tow surfing pioneer, Ken Bradshaw. Widely regarded for having surfed the largest wave ever ridden, as well as coaching former 7 time female world champion surfer, Layne Beachely, Ken Bradshaw is a wealth of knowledge and a uniquely experienced surf coach. Ken's private and group surfing lessons on Oahu cater to individuals looking to have fun learning to surf, to advanced surfing lessons and professional surfing guide.
The one-on-one coaching and analysis of your technique will take your excitement and enthusiasm of surfing to a much higher level and your enjoyment of the sport will soar!
Private lessons are available on the North Shore of Oahu, for beginning surf lessons, intermediate surf lessons and advanced surf lessons, 3 years of age and older.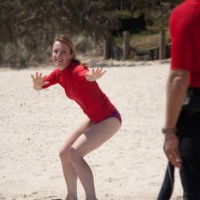 When you take private surf lessons the focus is on you.  It's all about what you want to learn, who you want to learn with, what type of wave or board you want to surf on.  You can surf and progress at the pace you desire.  You choose the time and duration of your surf lesson.
Private Surf Lessons in Hawaii with Ken Bradshaw's Hawaiian surf school guarantees you undivided individual instruction and feedback.  You can request a specific instructor which maintains consistency in learning and progress over multiple days and establishes rapport and friendship.  During your lesson time you'll also get to use Hawaiian Surf School surfboards and leashes.
Book Your Private Surf Lesson in Hawaii with Ken Bradshaw Surf School
— Click here to book Private Surf Lesson Reservations online
If you have any questions please do not hesitate to contact us directly at 808-391-6656.